That is the question that we are asking? Do we take a personal flotation device (PFD)Â or not when SUP paddling? Or Which one is best?
The 1st question is answered by thinking about a story from 2015. A paddler named Andres Pombo  went for a training run on the Columbia Gorge Challenge he became separated from his board during a practice run through the Gorge (its a brutal and fun downwind course – where the current runs in the opposite direction to the wind). According to analysis of footage shot by the GoPro camera attached to his board, Andres Pombo swam in the rough, windswept waters for approximately a minute before disappearing from view.
Despite immediate response efforts by eye witnesses and an extensive search, Pombo drowned in the river that day. He wasn't wearing a PFD (what ever the cause of death it is a terrible tragedy). I seriously think hard about this, could he have survived by wearing a PFD? who knows? The fear of separation from my board is an intense fear, and then my relatives watching it all on my go pro. Insane.
My Rules For PFDs
So I have made my own rules for PFDs. I have been paddling for 10 years now, and nothing has happened to me, I have been in some bad situations, but having the correct wet suit, a pfd and a leash has really helped me.
So my OWN rules for PFDs are if I am SUP surfing no way, it would be dangerous to wear a PFD, same for SUP foiling.
If I was going out on the beach by my house in Guissény and solo in the summer I probably wouldn't wear one, just because the maximum depth is 1 metre and I am about 40 metres from each shoreline. However that is in the summer! when the sea state is calm. In the winter I would probably wear one as the waves are pretty big. In the winter I would be downwinding in the bay and I always wear a PFD downwinding.
(Same beach but this is winter)
If I am venturing out of the of my home inlet into the open ocean I would wear a PFD without a doubt. Plus the French Law states that if you are 300 metres from the shoreline you are required to wear one.I also ALWAYS wear one when I surfski, that is because the risk of not getting back into the surfski is a lot higher than a SUP board.
I also always wear one when I am with clients, If I ask someone to put one on, then I do the same. (Never ask someone to do something you won't do). Also anyone under 18 by French law has to wear one.
So which one to chose? I have 4 PFDs that I have used and still use for SUP
 Stearns Life Belt, this is a really good and functional piece to use in SUP. It is really easy to clip into place and you don't feel it is there. It is ideal for SUP racing as you can put a water pack on your back and then the race lycra fits easily over it. The negatives are that it is self inflating, so you need to launch it yourself. So that is a question that you need to think about, Are you capable of inflating it by yourself?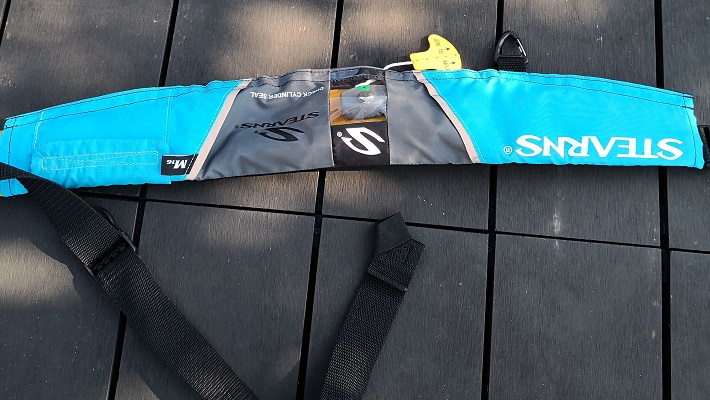 2. Decathlon PFD. This is cost effective, I use these for my company. They look good and are light. The position of the arms does not inhabit the paddling. The down side to this that there is a crouch strap that is a bit awkward, and that there are no pockets to put keys, water proof phone pouches or snacks in it.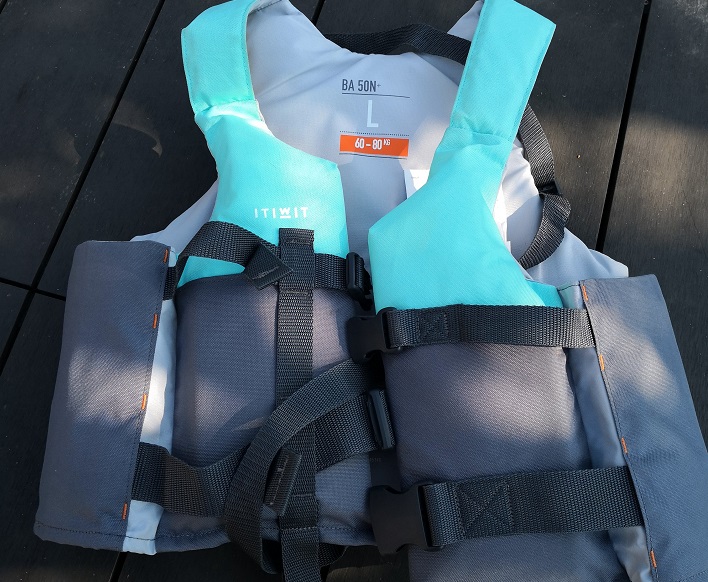 3. Vaikobi PFD. This is an expensive but good option it cost me around about 130 euro. It is designed for surfsking, but I wear it for SUP racing and SUP touring. It is light weight and doesn't inhabit the arms when paddling. There are mesh pockets to put in snacks, keys and phone. Plus there is a clip for a VHF (another requirement for venturing 300m offshore in France).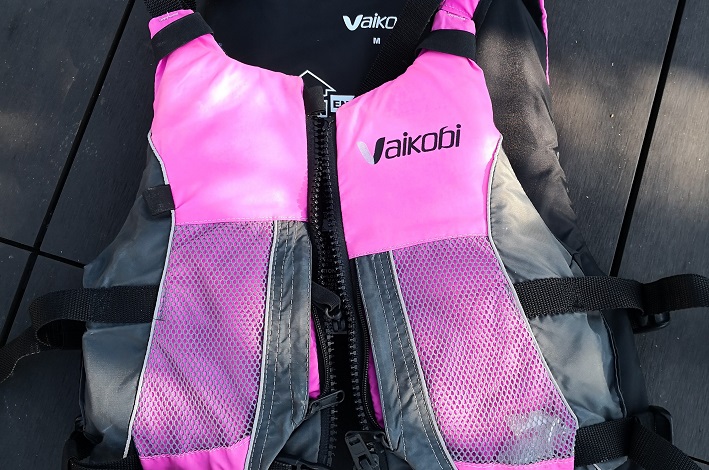 The other positives for the Vaikobi PFD is that there is a pouch for water at the back should you need refreshments on a journey or in a race.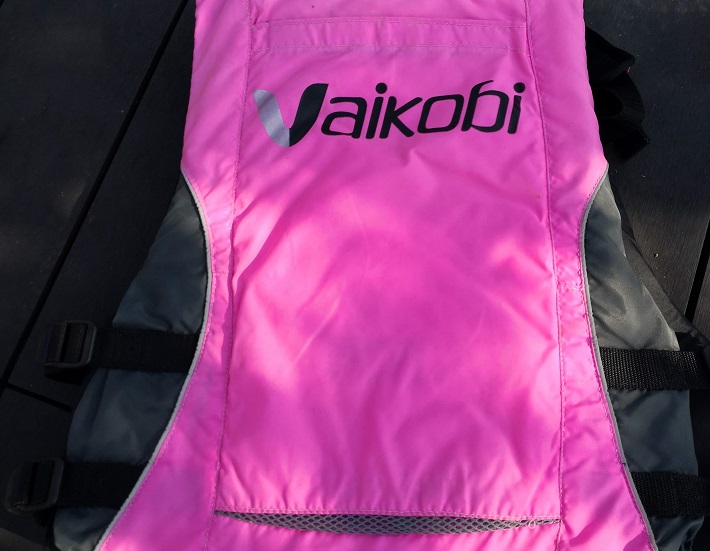 The negatives are that it is expensive. Maybe not a cost you want to outlay at the beginning of your paddle career!
4. Yak Kayak PFD, I have been using this for years, before SUP took off and technology improved. It is OK, the water pouch is quite restrictive and it is really tight fighting.
So whether you wear one is your choice, maybe dependent on the conditions where you paddle, and the discipline of SUP that you do! Then what ever you chose it is always a question between the cost, practically and comfort level of your pfd.
And remember ALWAYS have a LEASH!!!
Happy Paddling!
[/av_textblock]
[av_one_full first min_height=" vertical_alignment=" space=" custom_margin=" margin='0px' link=" linktarget=" link_hover=" padding='0px' border=" border_color=" radius='0px' background='bg_color' background_color=" background_gradient_color1=" background_gradient_color2=" background_gradient_direction='vertical' src=" background_position='top left' background_repeat='no-repeat' animation=" mobile_breaking=" mobile_display=" av_uid="][/av_one_full]
[av_one_half first min_height=" vertical_alignment=" space=" custom_margin=" margin='0px' link=" linktarget=" link_hover=" padding='0px' border=" border_color=" radius='0px' background='bg_color' background_color=" background_gradient_color1=" background_gradient_color2=" background_gradient_direction='vertical' src=" background_position='top left' background_repeat='no-repeat' animation=" mobile_breaking=" mobile_display=" av_uid="][/av_one_half]
[av_one_half min_height=" vertical_alignment=" space=" custom_margin=" margin='0px' link=" linktarget=" link_hover=" padding='0px' border=" border_color=" radius='0px' background='bg_color' background_color=" background_gradient_color1=" background_gradient_color2=" background_gradient_direction='vertical' src=" background_position='top left' background_repeat='no-repeat' animation=" mobile_breaking=" mobile_display=" av_uid="][/av_one_half]
[av_layout_row border=" min_height_percent=" min_height='0′ color='main_color' mobile='av-flex-cells' id=" av_element_hidden_in_editor='0′ mobile_breaking=" av-desktop-hide=" av-medium-hide=" av-small-hide=" av-mini-hide=" av_uid='av-14y6et']
[av_cell_one_half av_uid='av-zjflx'][/av_cell_one_half] [av_cell_one_half av_uid='av-qqo25′][/av_cell_one_half]
[/av_layout_row]
[av_layout_row border=" min_height_percent=" min_height='0′ color='main_color' mobile='av-flex-cells' id=" av_element_hidden_in_editor='0′ mobile_breaking=" av-desktop-hide=" av-medium-hide=" av-small-hide=" av-mini-hide=" av_uid='av-nc391′]
[av_cell_one_half av_uid='av-gehwt'][/av_cell_one_half] [av_cell_one_half av_uid='av-bkmnh'][/av_cell_one_half]
[/av_layout_row]