Wild Women SUP Symposium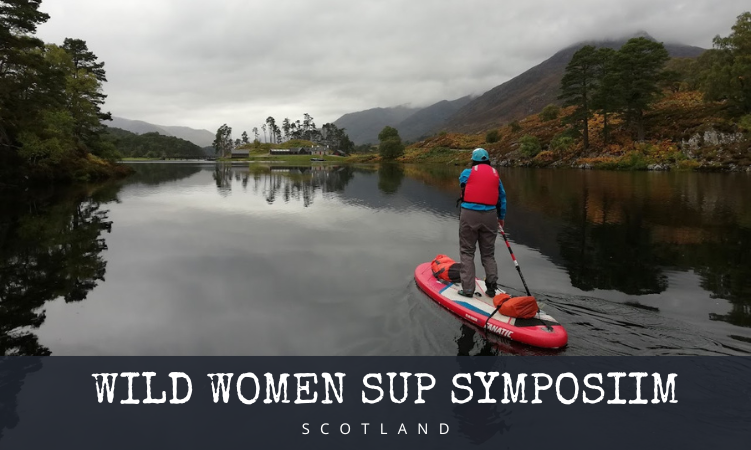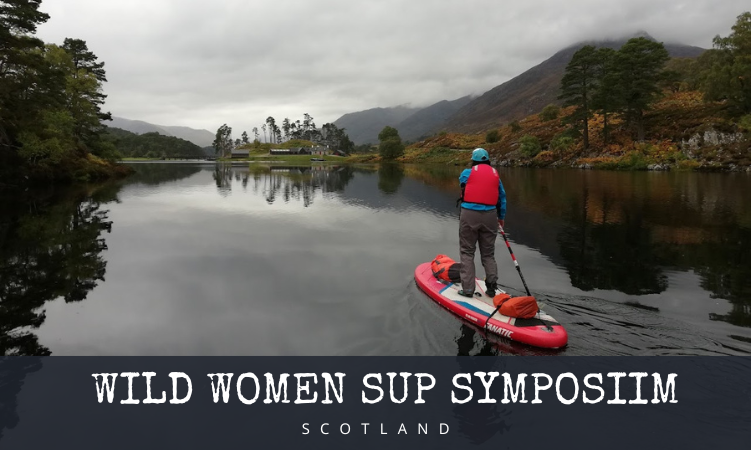 September 2022 saw the first ever Women SUP Symposium organised in Scotland,for women and led by women.  This event was organised by myself, Helen Trehoret, from Barrachou Paddle, Finstere, France.
Why did I organise this event?
This project was born out of an addiction to paddling in Scotland. A place that I have paddled in for the best part of ten years. After years of showing a good friend around Scotland, I decided that it was time to encourage other women to explore the wilds. But why only open this to women only? I decided that a women's only event would provide a supportive community that would help challenge and develop the skills of the women paddlers. Also in my experience women are more likely to share their lack of confidence and fears when found in a supportive group, and more often this is found amongst other women.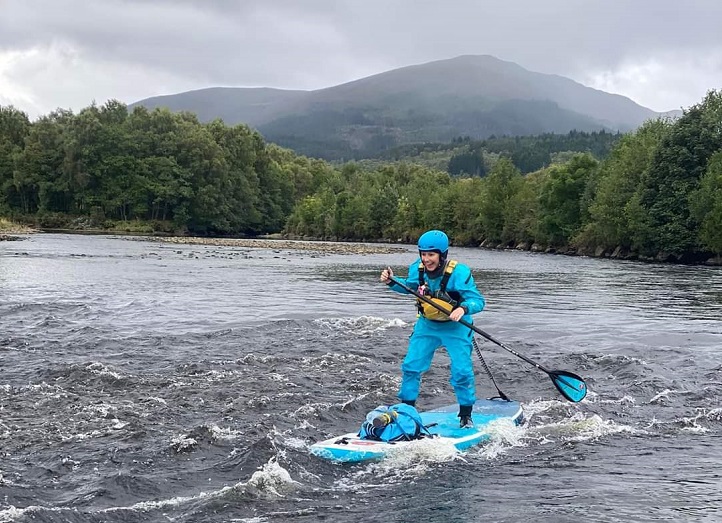 Photo Credit: Claire Scott
Thirdly seeing "wild" SUP holidays targeted at women groups were often led by men, so I felt that this was the opportunity to empower women to take on leadership roles when paddling in more "wilder" locations. Basing the even in Cannich offered paddlers conditions that were quintessential Scottish, but at the same time providing a sheltered location for the groups, which is why it was based out of Cannich, Scotland. A beautiful village at the start of the Glen Affric.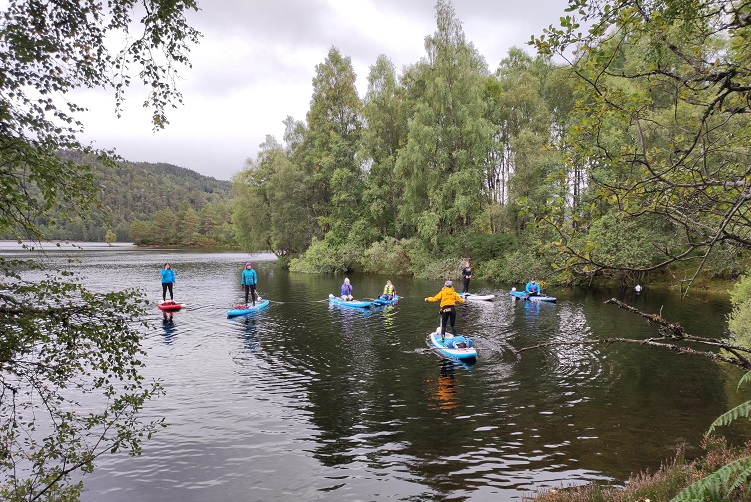 So the project was born we need to fast forward a few years! The weekend had arrived and 30 ladies signed up, we were ready to charge up the Scottish lochs armed with our t-shirts provided by our chief supporter ASI academy of surfing instructors. I reached out to five instructors that all had slightly different theme and area of paddle expertise. The wonderful thing about instructing is that most instructors have something a little different to add, that can really improve one's paddling.
The instructor roster comprised of Leanne Bird that took the SUP fitness and mobility sessions, Samantha Rutt running paddling turns and technique, Emy Mcleod running the SUP confidence sessions, Jess Philips that ran the river SUP session, and finally myself that gave workshops on SUP expeditions.
Weekend's Programme
After the Friday night meet and greet, we were all ready to go. All the sessions were based at Loch Beinn a'Mheadhoin, a Loch that runs West to East, with a few in-Loch Peninsulas scattered around that help give a bit of protection from the furious Scottish wind, except the River SUP.
The first session to take place was that of recent world record holder Samantha Rutt, fresh off her Irish Sea crossing. The theme for her workshops was to break down the paddle technique and turns for the paddler, going into the bio mechanical processes that hinder or help our turns. Once the theory was nailed, paddlers moved to the water and before long were nailing their step back turns, as the session moved on the improvement level improved, with paddlers spinning their paddleboards around like heros!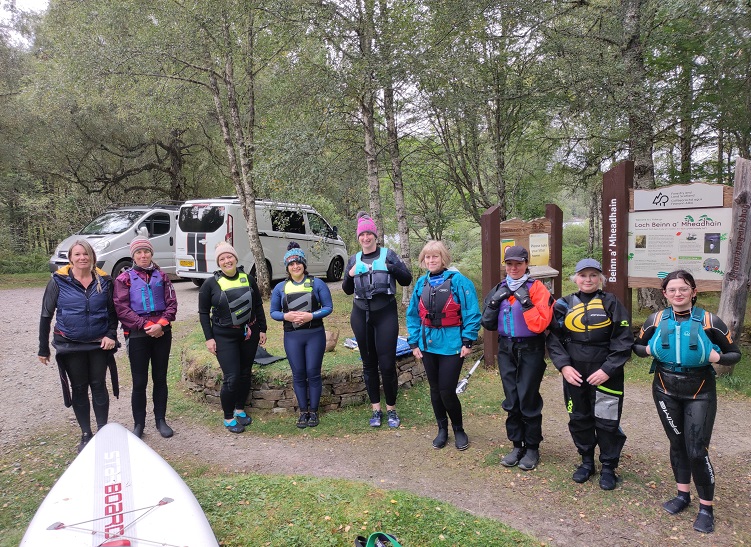 Emy Mcleod sessions were centred around gaining confidence on the water, the weekend was based on around multiple skill levels, from beginners to those who had a few miles under their belt. This session allowed those who were new to the sport to gain their confidence in their paddling, getting their body position correct, and their weight evenly distributed, aspects of paddling that often bypassed with the eagerness to get onto the water. At the end of both sessions there were very few ladies who fell in or remained on their knees! A testament to the success of the sessions!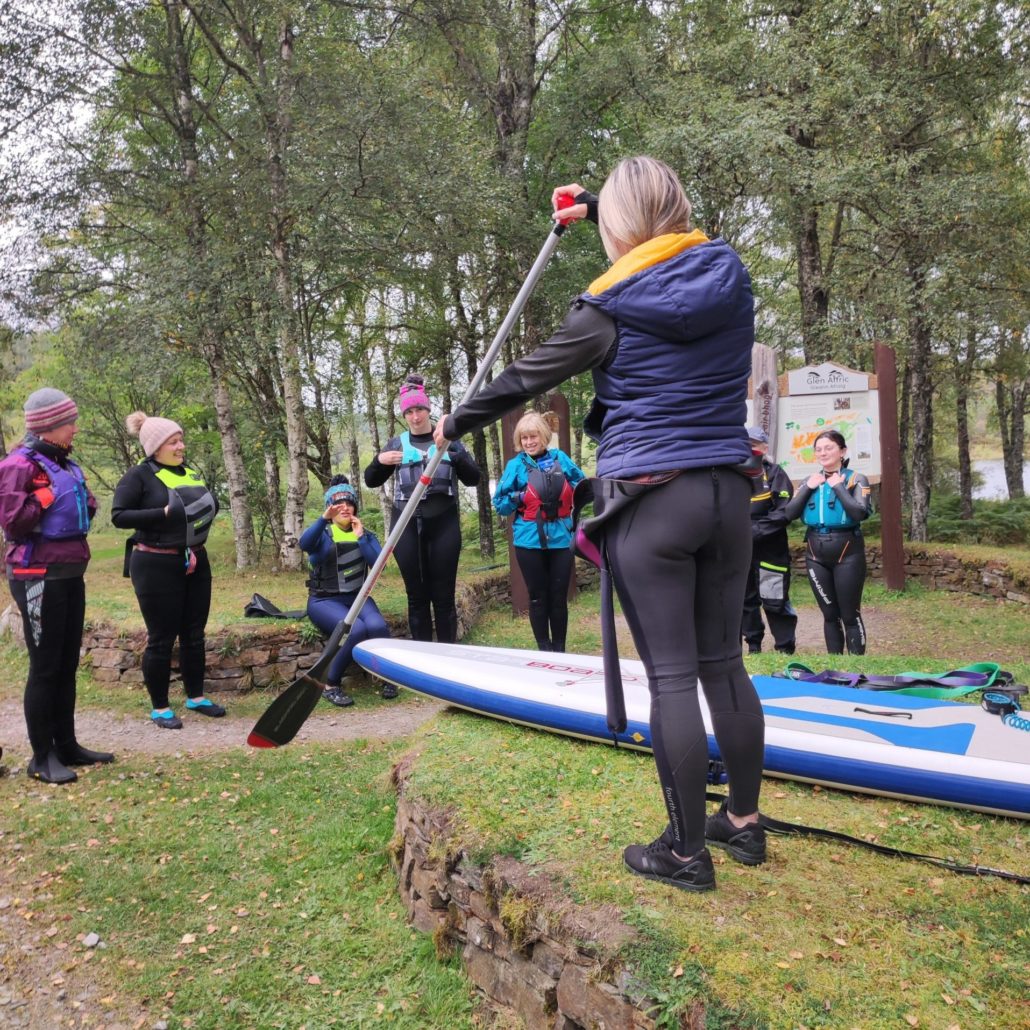 Hidden around the corner in a serene and protected bay was the Leanne Bird, her sessions focus of fitness and mobility in SUP paddling. The session proved a success judging from the level of laughs and the general sounds of ladies pushing themselves to the next level. We sometimes forget that SUP paddling is a sport and in order to get the most of it, you do need a level of fitness, especially in paddling in the conditions Scotland throws at you!
The fourth instructor, Jess Philips was on River SUP duty. This was a beginner session aimed at giving the paddlers a taster into a different SUP paradigm. The ladies were packed off for the day to explore the River Glass, a grade 1 / 2 river that weaves its way down from Glen Affric. The ladies armed with river fins, helmets and quick release belts were introduced to rapid running. They all came back with smiles, a few bruises and an addiction to rapids.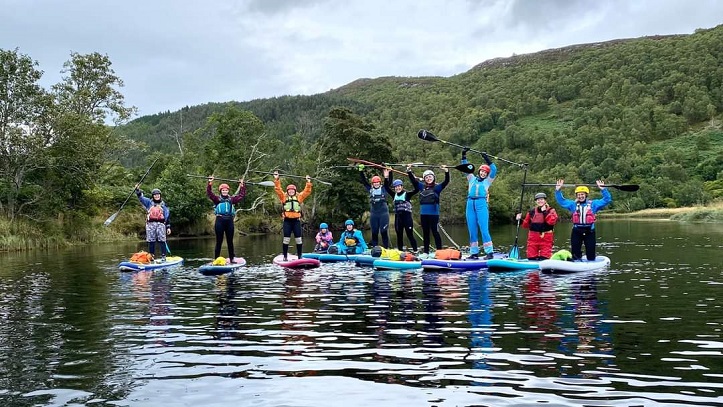 My sessions were land based and focused on planning your next expedition, the main goal for the weekend. I felt I wanted to arm paddlers with the skills to plan their own expeditions, emphasising that expeditions don't need to be multi day events, they could be just across a sea, lake, loch or down a river, maybe 500m, maybe 4 miles, or 50 miles, it all doesn't matter, as long as the ladies are getting out there! The focus of my session was on navigation, reading the tides, and planning for expedition. I talked about my successes and my errors in the trips that I have organised. At the end of the session, I hope to have planted a seed!
And of course you can not have an event with a social. The Saturday night we shared a bbq, drinks and listened to a discussion about Samantha Rutt's epic paddle from Northern Ireland to Scotland. Hopefully inspiring other paddlers to set themselves challenges.
Expedition
To conclude the weekend, we added a SUP expedition bolt on trip. Organised to put into place the skills that the paddlers had learnt over the weekend. Everyone has a dream of paddling and staying the night in wilds, but to do alone is sometimes daunting. After morning preparation and briefing we set off to paddle across the other side of Glen Affric.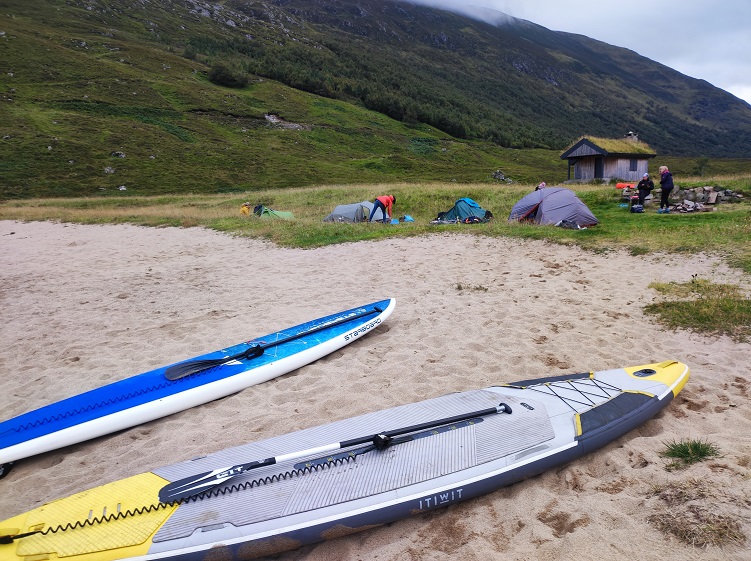 Each paddler carried their own tent, and belongings. Heading up the glen with high spirits, and a head wind, we paddled past the Glen Affric Lodge and made it to the other side.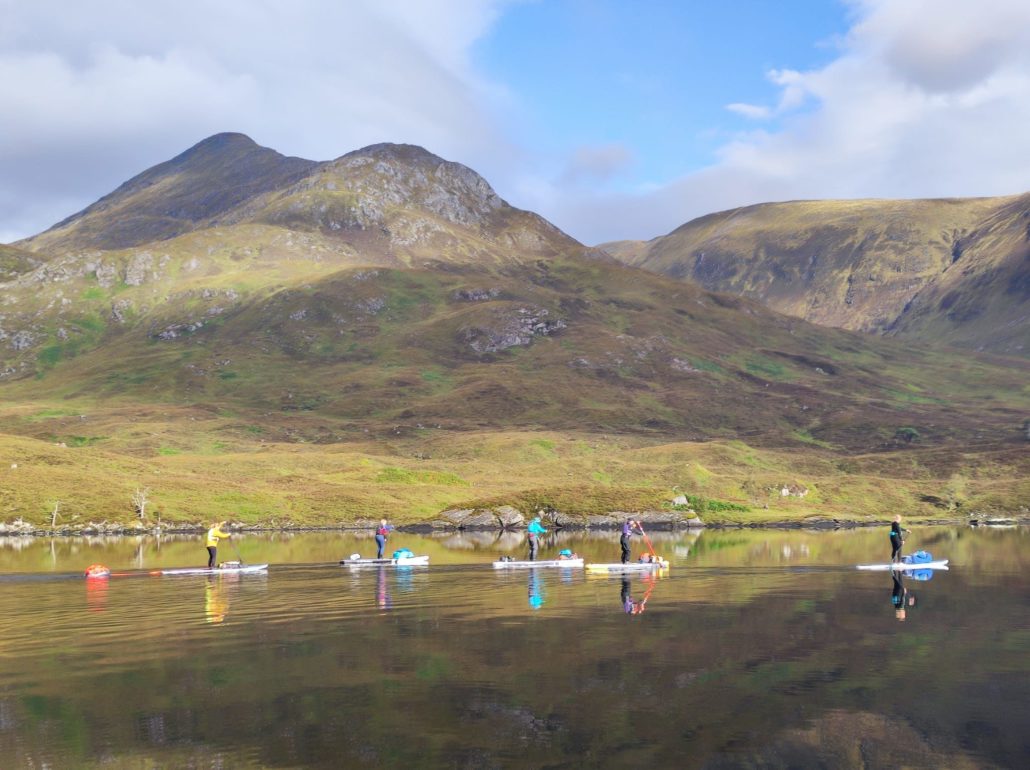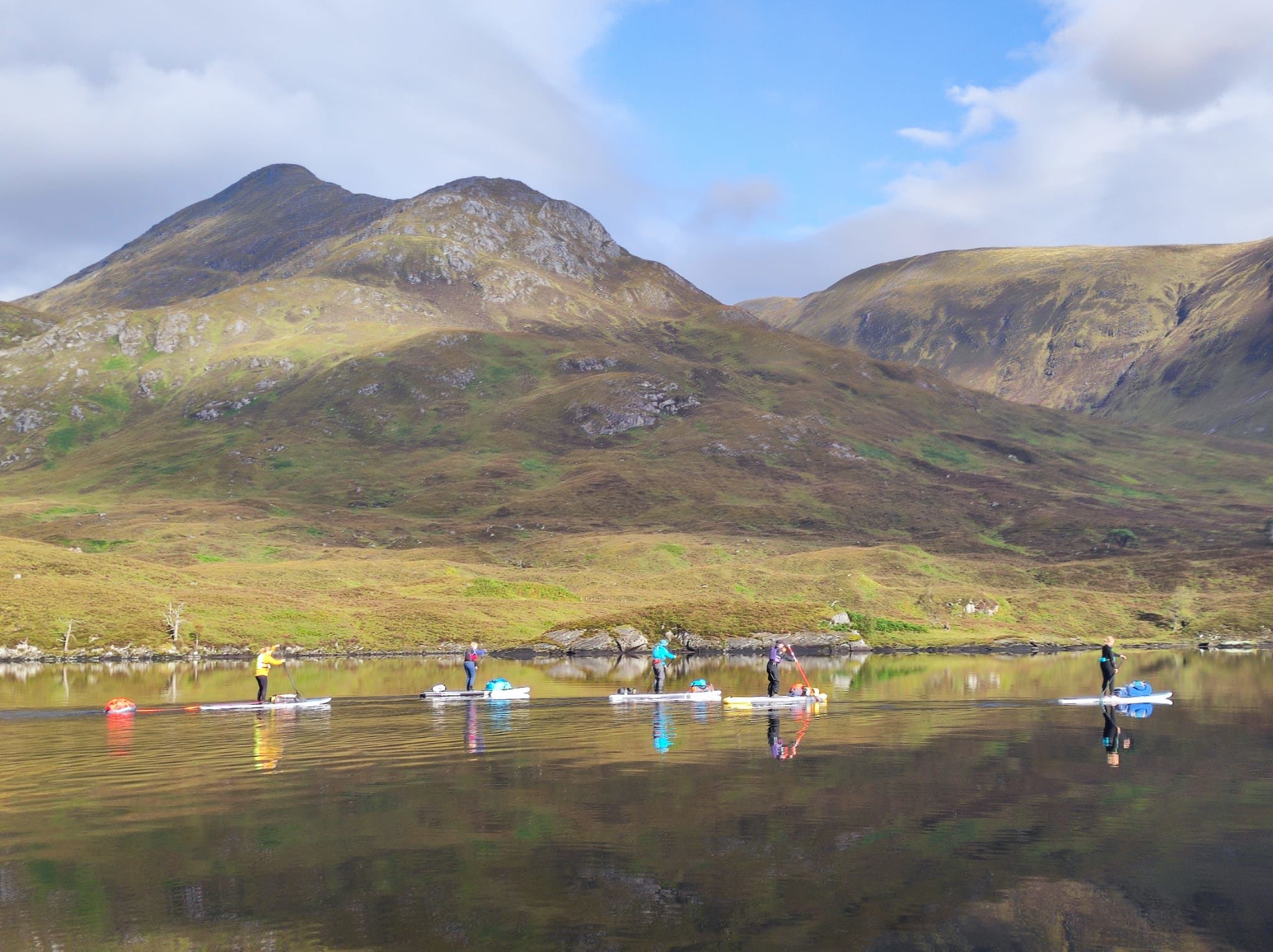 After an evening spent around a fire, started by a very able South African, Caryn Foster, we settled down for the night. The next day after a brew, breakfast, and rapid bathe in the loch we headed back. The conditions on the way back up the glen were captivating and provided the perfect send off for the paddlers on the trip!
Conclusion
The weekend was a resounding success, great friendships made, stories and experiences swapped, and more importantly we all left promising to do it again next year. The weekend was a success due to the support of ASI academy of instructors, and the instructors present that weekend that gave a YES, as soon as I asked, and more importantly the success was down to the ladies who came to Scotland, from far and from not so far, they came with their positivity and paddle vibes. A special thanks and mention to Pat Macdonald and Claire Scott for assisting during the weekend! See you again next year! For more information for the Wild Women SUP Symposium 2023 head over to www.barrachoupaddle.com