Top 5 places to SUP in Brittany, France!
From cultured cities to pristine nature sites, France offers endless tourist attractions. Including North Finistere. Discover this fascinating and diverse region with our list of the best places to visit in Finistere.   So are you ready to explore a totally new place? Somewhere completley off the beaten track that you won't find it any guidebooks. Lets being with the location, Finistere is found in North West France. The department (region in French) is the hot bed for French SUP boarders, and this no surprise, given the location and conditions found in this relatively unknown region. This is the reason that you should be this region compared to other regions in France.
Let me talk you through North Finistere, and at the end offer you the SUP trip that will blow your mind, packed full of breathtaking white sand beaches, and spectacularly translucent Sea. What is more this is a destination that is only 30 Minutes from the UK (OK plus the ferry!) or 1 hour from Paris (By plane). Read more about the most perfect paddleboard holiday in France and the top 5 places to paddle in! And after you have finished reading, book yourself a SUP holiday with Barrachou Paddle!
Top 5 Best Places to Paddle!
So are you ready to explore a new area of France?  Read on to find out the TOP 5 places to SUP in France!
1.  Pontusval
In Breton this means in Breton "Poul beuz an aneval" which means "The abyss where the beast was drowned".  
There is a fable story about a dragon, children, and a dad who saved the day. Paddling here is immense, found just off of Brignongan Plage, you can paddle between the rocks exploring different beaches, and spying on basking seals.  The best part of this area finding an empty beach with crystal clear water, and what is more you will have this to yourself! Imagine paddling here!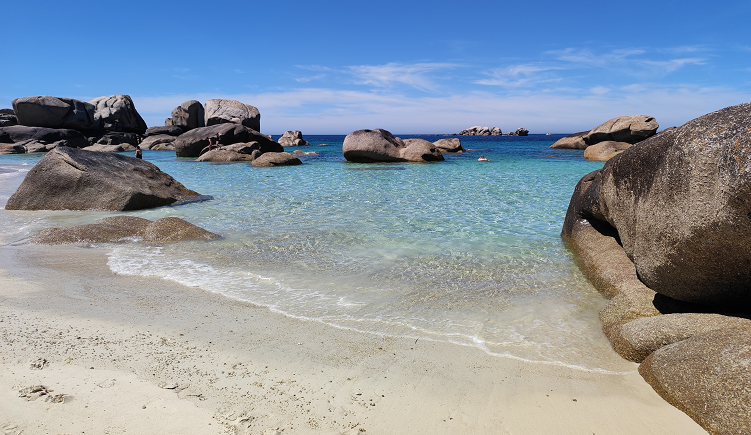 2. Meneham. 
An old fisherman village found in the village, Kerlouan. This site is famous for a custom house that is nestled between two huge rocks. In fact this site is famous for rocks. But what might fear into some paddlers, its a blessing for us! With rocks comes aquatic life, it is not unusual to find schools of fish, dolphins and seals in this area.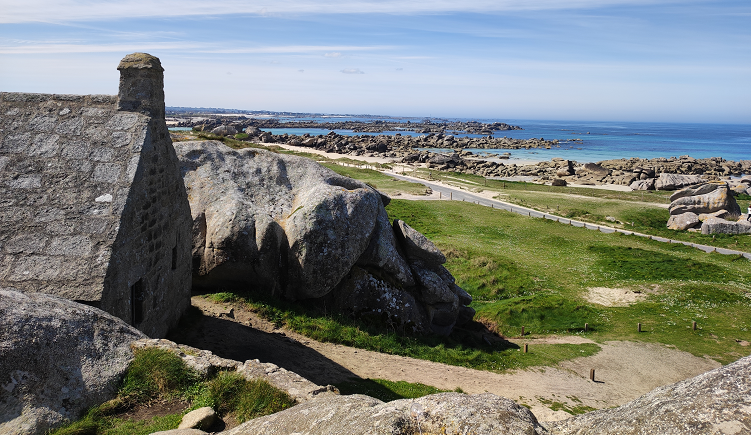 Meneham has two ports, whatever one you want to chose will depend on the conditions. But you will enchanted by the curious seals that swim underneath your board, or maybe they will just follow you as you explore the seagrass gardens that are found scattered in this area!  This part of the Atlantic is famous for its high tide coefficients,  which means its all about timing! This is why you need to take a guide, from Barrachou Paddle!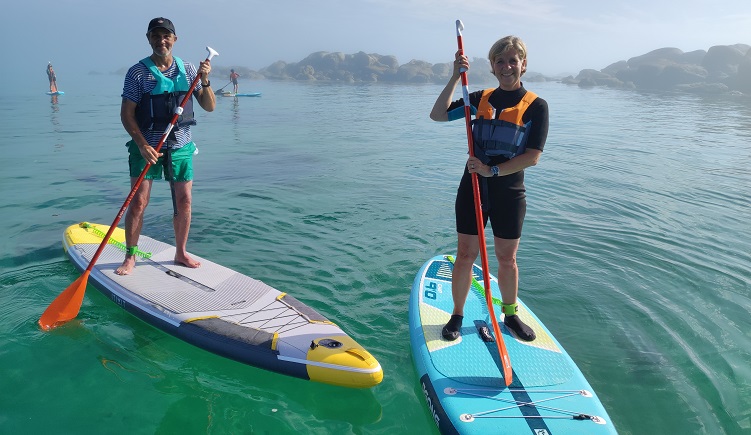 3. Ile Vierge, Lilia.
Translated into English this means the Virgin islands! Named by monks back in 1450. However, in Ile Vierge, is home to the Ile Vierge lighthouse the tallest stone lighthouse in Europe, standing tall at 33 metres high. A truly jaw dropping sight! Just next to this is an old lighthouse keeper (and light house), named the "mason de gardiens", it has been authentically restored into a gite.  After paddling over to the island you can live the life of a true light house keeper!
To get to the Ile Vierge you start at Lilia, Plouguerneau. This is small port village  with a samll number of Fish restaurants and Oyster bars. A perfect stop for the post or pre session lunch, either sampling locally caught oysters or having a hearty crepe complet! Once you have navigated past the local fishing boats docked in the small port, you will instantly seduced by serenity of the bay. 
What is here? This is an area of beauty from the sea grass gardens, flowing sea weed, to the scattered islabds of course more seals!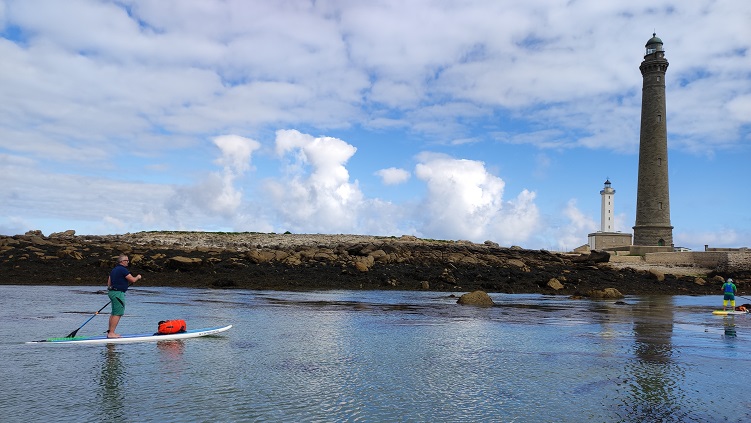 4. Guisseny
Guisseny,  This is a village that was founded over a 1200 years ago by an Irish Monk. Here is the heartlland of Breton culture, language and stories. This is not France as you know it. If you are looking for slow living, and tourism, this is the place to come. Guisseny is a village that is situated along the Ocean.  It starts with a enormous bay that in summer is the perfect place to explore, further along you come to the Port de Curnic, where the action is during the summer!
What is great about Guisseny is that there are so many bays that you can find what you want depending on the conditions, whether it be Wing foiling at the Vougout, Surfing at the port, or downwind paddling in the winter! Guisseny is the watersports action centre of North Finistere, but remarkable remains empty!
5.  Stagadon
Owned by a local Christian charity this is an offshore island found in the middle of the bay. Stagadon is tidal lagoon which opens up at mid to low tide exposing water so translucent you would you think you were in the Caribbean. This is the Jewell in the crown for North Finistere. Referred to often as the Maldives of North Finistere!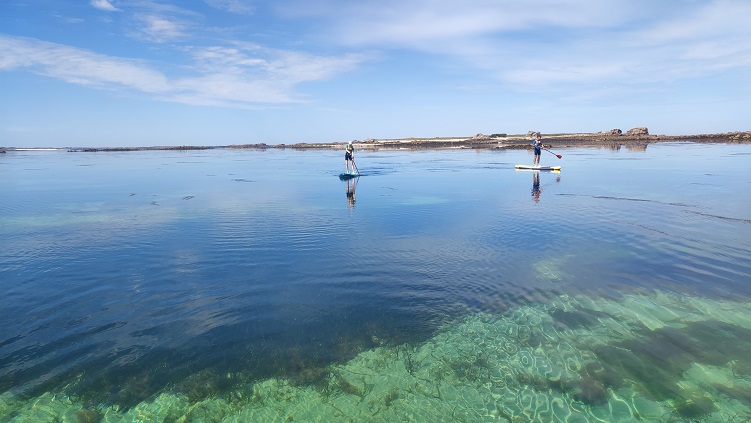 Located on the Stagadon is a rustic hostel on the island  allowing you to fully embrace the Robinson Crusoe life! This island is only accessible by water, meaning that once the day trippers have left you have this island to yourself!
Barrachou Multi Activity Holidays
Can you imagine your SUP holiday here? Well this is the time to get involved. Immerse yourself in the real France, and book a trip to North Finistere with Barrachou Paddle!  . We offer a 5 day Yoga and Paddleboarding holiday, that combines all these destinations, along with expert guides! North Finistere, is off the beaten track. The France that doesn't get the glamour.