Its great to see more and more people out on the water. Apart from thinking about the type of board and paddle needed, the choice of safety equipment is always on the top of the list of conversations. So it is time to look for a SUP specific pfd!
The question which comes up often is which pfd to wear? And when?
I have been paddling for 10 years now, and I have been in some bad situations, but having the correct wet suit, a pfd and a leash has really helped me.
So my OWN rules for PFDs are if I am SUP surfing no way, it would be dangerous to wear a PFD.
If I am venturing out of the of my home inlet into the open ocean and solo I would wear a PFD without a doubt. Plus the French Law states that if you are 300 metres from the shoreline you are required to wear one at all times.
I also ALWAYS wear one when I surfski, that is because the risk of not getting back into the surfski is a lot higher than a SUP board. When working as a SUP instructor for  my company Barrachou Paddle I also wear one, its the French law!
So  you looking for a SUP specific pfd which one to chose? I have 5 PFDs that I have used and still use for SUP!
1.  Baltic SUP Pro
This buoyancy is developed specifically for Stand Up Paddleboarding. SUP Pro is designed to give the user maximum mobility, both on the board and in the water The buoyancy aid has a long body, which is well suited for SUP use. Suitable for beginners as well as experienced paddlers it is designed to give the user maximum mobility, both on the board and in the water.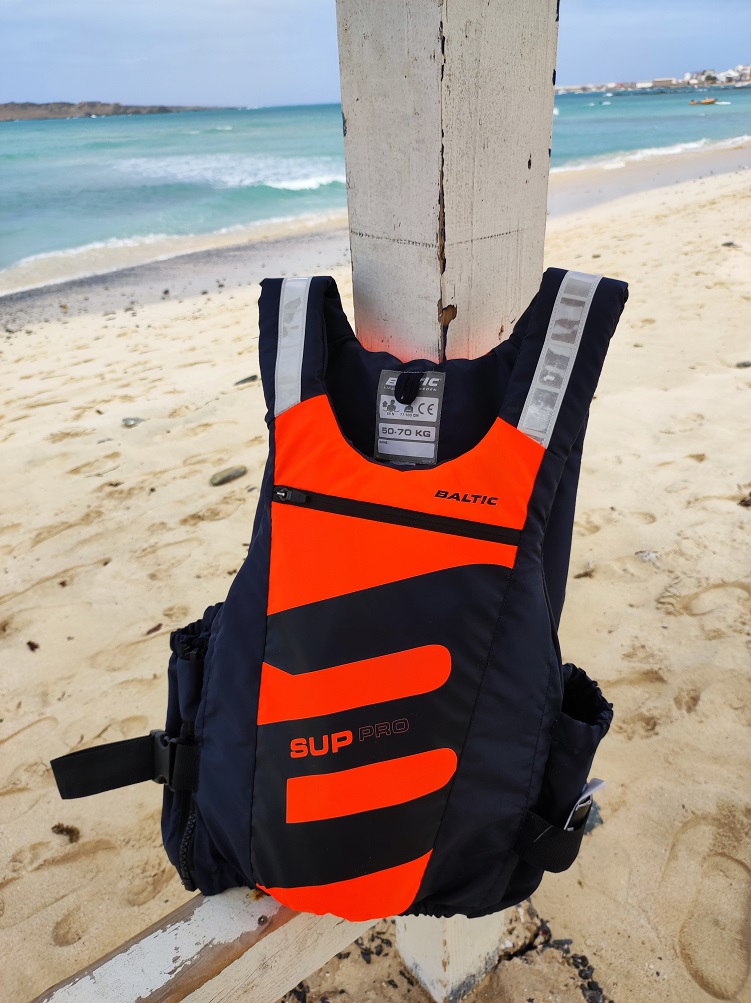 The buoyancy material has a unique design and division on the front of the buoyancy aid. It is thin, compact and flexible which makes it easier for the wearer to get up on the board from the water and makes the buoyancy aid follow the paddle movement. Easy on and off through a side zip, and to don over the head. Adjustable waistband and zippered pocket on the front. Reflectors on the shoulder areas. 50N buoyancy and is classified as a buoyancy aid.  The Baltic SUP Pro is available to buy from our shop!
2 . Stearns Life Belt, this is a really good and functional piece to use in SUP. It is really easy to clip into place and you don't feel it is there. It is ideal for SUP racing as you can put a water pack on your back and then the race lycra fits easily over it. The negatives are that it is self inflating, so you need to launch it yourself. So that is a question that you need to think about, Are you capable of inflating it by yourself?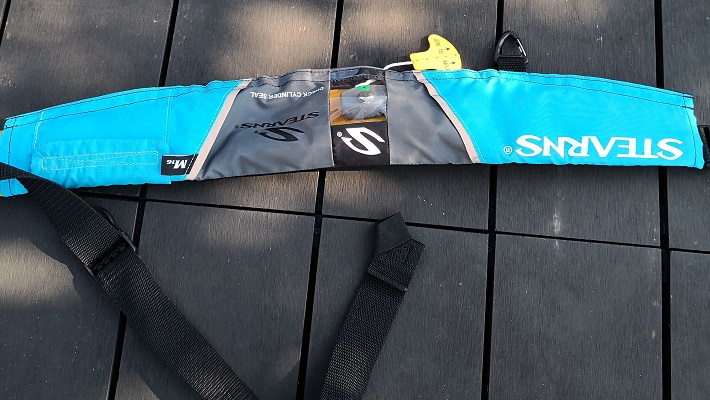 3. Decathlon PFD. This is cost effective, I use these for my company. They look good and are light. The position of the arms does not inhabit the paddling. The down side to this that there is a crouch strap that is a bit awkward, and that there are no pockets to put keys, water proof phone pouches or snacks in it.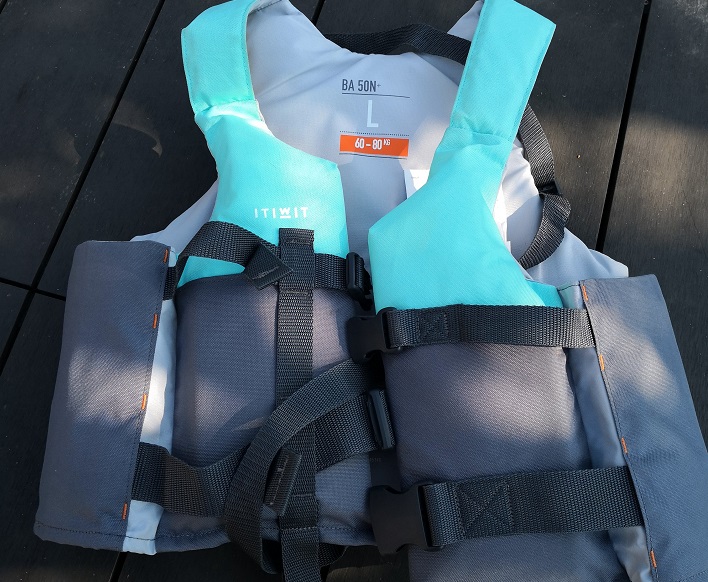 4. Vaikobi PFD. This is an expensive but good option it cost me around about 130 euro. It is designed for surfsking, but I wear it for SUP racing and SUP touring. It is light weight and doesn't inhabit the arms when paddling. There are mesh pockets to put in snacks, keys and phone. Plus there is a clip for a VHF (another requirement for venturing 300m offshore in France).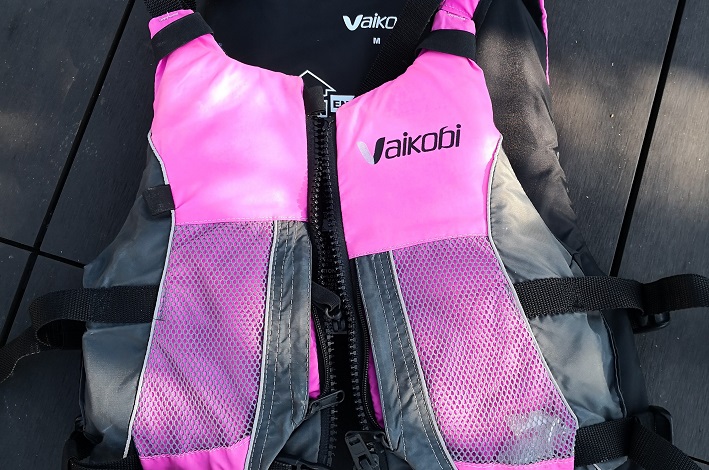 The other positives for the Vaikobi PFD is that there is a pouch for water at the back should you need refreshments on a journey or in a race.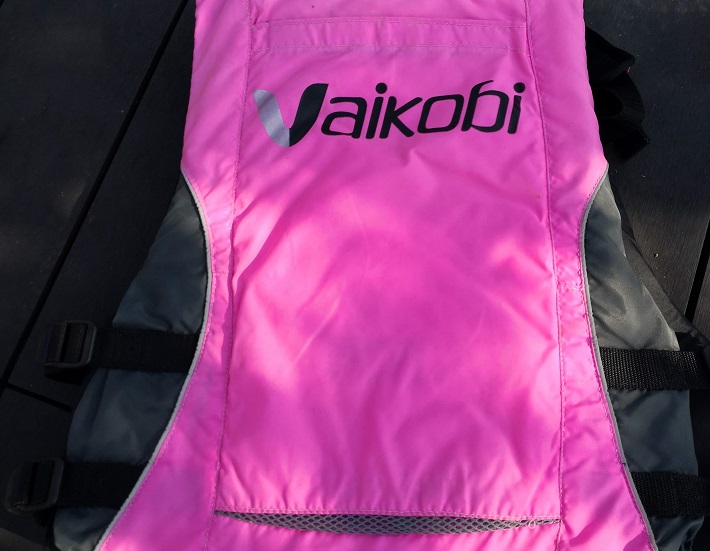 The negatives are that it is expensive. Maybe not a cost you want to outlay at the beginning of your paddle career!
5. Yak Kayak PFD, I have been using this for years, before SUP took off and technology improved. It is OK, the water pouch is quite restrictive and it is really tight fighting. But ideal for kayaking. When doing the eskimo roll it gives that little bit of lift needed to roll the kayak!
So whether you wear one is your choice, but it is advised, and I will be wearing one! But where you wear a pfd depends on the exact discipline of SUP that you do! The choice of pfd you chose will depend on the amount of money you want to spend, and the exact type of paddling that you will be doing!