I am fresh back from The Pacific Paddle Games in Doheny State Beach, California, where I was working for TotalSUP. For those that might not know it is the season finale for the paddle league, the competitive league for international SUP  athletes (as well as the APP tour).  I was on the beach and had ring side action to the races. There I witnessed paddlers young, and not so young really push themselves all through weekend, it was amazing! The talk of the weekend was the  youngster Tyler Bashor pull one out of the bag, after being off his board, taking a swim, he then pulled off an awesome come back and take the win, incredible and a real lesson that it is not over, until it is over! I also saw an outsider Brazilian Gui Dos Reis, stir up the mix and come 2nd overall in the contest, truly exceptional paddling! There was also local paddler Candice Appleby finally lift the crown for Queen of Doheny! It was a contest of everything was possible and valiant paddling efforts.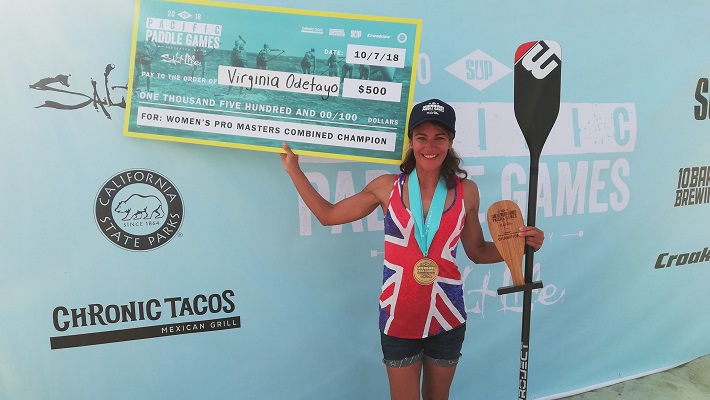 Photo Credit: Helen Trehoret
But what I saw that excited me the most, being a woman paddler (blatantly bias) was two women pull off something that was big, and it did not go unnoticed!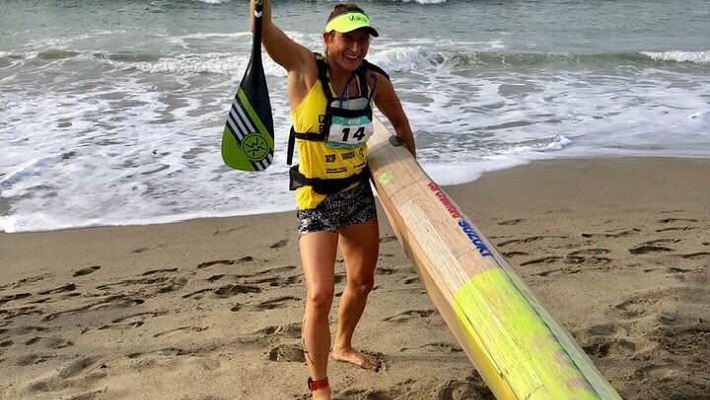 Photo Credit: Lina  Augaitis
The two women who blew my mind away last weekend were the British paddler Ginnie Odetayo and the Canadian paddler Lina Augaitis. What blew me away about these two paddlers were that they not only stormed the event with their results, they were able to do it being a mum, not of 1 child but of 3 and 2 respectively.  I am a mum of 2 kids, a bit sporty, but I m not an athlete I paddle almost everyday, I play  (dabble) in sport (hockey) at a recreational level, so I think I know what it entails to juggle being a mum and still blaze a trail for sport, especially the sport of paddling. Sometimes it is only possible to go paddling 8 pm at night, sometimes 17 hours after you began the day! So I can only imagine the levels of commitment, determination and drive that is needed to compete with the top 20 in the world whilst being a mum! These two remarkable women really put on a show that is inspiring to us other mothers!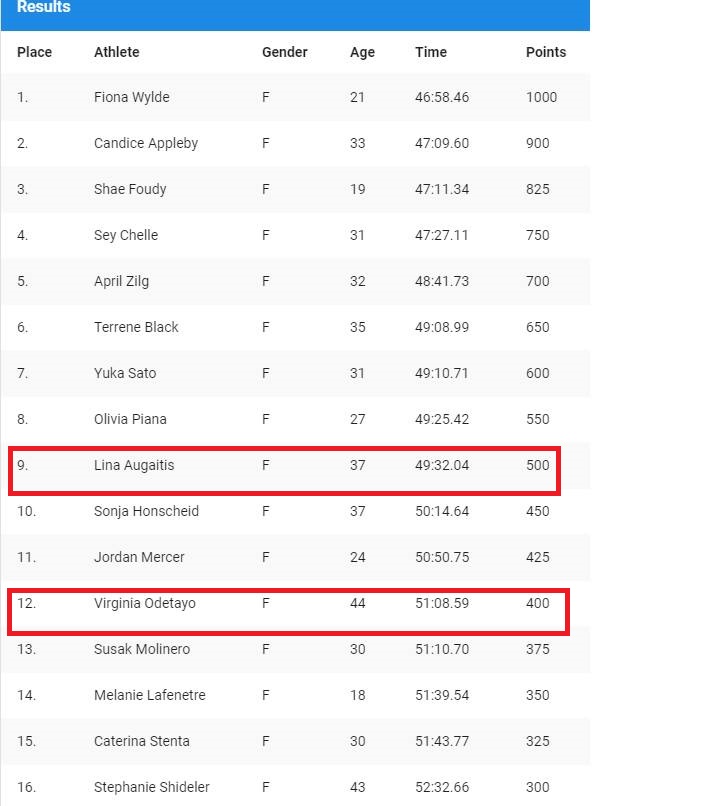 I often tell people it is not the actual event that exhausts me, it is the night when I return home from the event, where I have to bath, dress and read my kids a story, when all I want to do is go sit on the sofa and play pokemon.  It is truly difficult. Add to the mix that these two athletes are also working, so a mum, an athlete and a  worker. That is the ultimate women. So I hope to see more of Ginnie and Lina on the world circuit, and every time I do I will cheer for them! You two were my stand out performers of the weekend! You showed that everything is possible!